Molded Coils
Molded Coil Services Offered
Molded coils are our specialty. Our multi-faceted molding capability includes eight transfer mold presses and four injection mold presses for both thermoplastics and thermoset materials. Epoxy transfer molding of coils and solenoids is the best protection against harsh environments. We also offer a poured molding process using liquid epoxies or silicone elastomers.
From mold design, to prototyping, to high-volume production, we assure high quality and close tolerances for virtually any application. Our molded coils are designed to meet or exceed customer expectations. Sag Harbor Industries employs UL approved class B, F and H insulation systems. We utilize large capacity shuttle presses up to 80 tons as well as multi-cavity molds for the lowest possible cost production of molded coils.
Molded Services Production Capacities
A Variety of Molding compounds

RYNITE
RE5220
NYLON 6/6
SLAC EPOXY
RYTON
MH6-XXX
RTV 8112
EPOCAP 19284
EPON EPOXIES
INSULCAST EPOXIES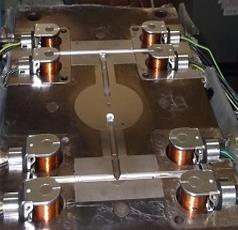 Coil Terminations
Coil terminations are a critical path in connecting coils to the outside environment. We offer numerous solutions for terminating coils, below are just some of our capabilities:
Method

Dip or Hand Soldered
Ultrasonic and Fusion Welded
Potted or Overmolded
Type

Terminals, Tabs or Lugs
Self or Flexible Leads
PCB Connections
NPT or Conduit Connections
Welded tabs
Quality Assurances
We place a priority on quality. Our coils are produced in compliance with our ISO 9001:2015 certification. We maintain the absolute highest quality control measures to ensure customer satisfaction. Our self-auditing and inspection techniques are rigorous and thorough. Our team undergoes training and certification programs to ensure expert craftsmanship.
Our ISO 9001:2015 certification gives our customers the confidence that our production facilities, our internal and external auditing methods and our quality control procedures meet or exceed international standards. We consistently rank in our customer's "Highest Vendor Ratings". From product conception to application, our goal is to produce the highest quality product; as well as to deliver it on the designated date consistently and to continually improve in every aspect of our business.
Industries Served
Aerospace
Military and Naval Sensors
Automotive
Control Systems
Value Added Services
Value-added services are available per your requirements:
JIT/KanBan system options per customer's preference.
RoHS compliance at your request
24-hour response time when responding to feedback
The products we make are completely proprietary and never compromised
Personal and direct service with on-site communication
Teamwork between us and you, with superior performance being the goal
Made in America
Sag Harbor Industries is a conscientious manufacturer. As a quality first company, the workmanship of our products is just as important as its price. The quality of American made products is second to none. Our customers can be assured that not only are Sag Harbor Industries products Assembled in America, they are also Made In USA, and we wear that distinction proudly.
That's The Sag Harbor Advantage
Details of Sag Harbor Molded Coils Capabilities
Molded Coil Catagories

Field Coils, Self-Supported Coils, Solenoid Coils, Instrument Coils, Harsh Environement Coils, Air Coils

Terminations

Soldered Lead Wires, Welded Lead Wires, DIN terminals, Tab Terminals, Crimped terminals, Stripped & tinned Magnet Wire

Wire Size
2AWG - 52AWG
Wire Materials
Copper, Brass, Aluminum, Copper Clad Aluminum, Copper Nichol Alloys, Copper Tin Alloys, Silver, Gold, Stainless Steel
Wire Insulation Materials
Polyurethane, Polyester, Polyesterimide, Polyimide and combinations of these
Coil Temperature Ratings
105⁰C - 240C⁰
Bobbin Materials
Nylon 6/6, Glass filled nylon 6/6, Glass Filled PBT, Glass Filled PET(Rynite), Glass Filled PPS (Ryton), Liquid Crystal Polymer, Thermosetting Polymer, Phenolic, Glass filled DAP
Molding Processes
Over-Molded, Transfer molded, Injection Molded, Poured Epoxy
Molding Materials
Rynite®(PET), Ryton®, Zytel® (nylon), Farboset
U.L. Insulation Systems
Class B,F, H
Yokes and frames
C and D Frames along with Custom Yokes