The Sag Harbor Advantage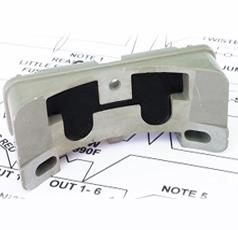 Sag Harbor Industries is dedicated to a customer focused approach with value-added services and quality assurances. Our ISO 9001:2015 Certification ensures that our customers receive the utmost in quality management.
Harsh Environment Solutions
There is no one-size-fits-all answer to harsh environment situations. Our experience, knowledge base and the relationship we have with our suppliers allows us to offer exactly what our customers need for each and every situation. We work with our vendors to find the precise encapsulant for an application. If none exists, we work with our vendors to create one for you.
One such example was to create an epoxy highly filled with alumina to mold an encasement capable of precise heat dissipation requirements. Our engineers worked tirelessly with our vendors to create this special application epoxy and it was implemented flawlessly. This is just one example of our built-in value added services.
Engineering
Sag Harbor Industries offers a wide variety of electrical and magnetic components and assembly's as well as related support services. Most recently, we have added a contract engineering department.
Charles Edison created Sag Harbor Industries with a clear vision; to supply the electromagnetic and coil winding industries with superior service, quality craftsmanship and the type of flexibility to handle our customers' needs as efficiently as possible. Since 1946, we have done just that.
Capacities
Our molding, potting, varnishing, vacuum impregnation and encapsulation capacities have served many industries and are found within many applications. To name a few:
Chemical immersion
Jet engine environment
High temperatures
Freezing temperatures
Radiation shielded sensors
Radiation beam corrector coils
Underwater, salt air and offshore
Downhole environmental challenges
Deep space communications
Anti-corrosive coatings
Tooling & Molding
We are a custom coil shop. We create high quality custom tooling completely in-house saving precious time, which in turn saves you money. By offering versatile, in-house tooling services, we are able to offer peak production efficiency with fast turnaround time at the lowest possible cost to our customers.
Our toolmakers have years of experience in automated and semi-automated machining, as well as manual machining. This cross training allows Sag Harbor Industries to offer our customers both the efficiency of computer assisted machining along with the ability to create custom, one-off tooling and parts.
Our in-house plastic injection molding facilities along with our tooling capabilities create a seamless transition from prototype, to preproduction, to volume production. Our toolmakers and engineering teams collaborate with our customers to create innovative solutions to your products most demanding requirements.
Services
We offer a variety of services to best match our customers' needs with our production capabilities. We offer:
Turnkey, kitted or labor-only services available upon request
Sub-assemblies to box builds and beyond
Prototype and product development
Engineering assistance; our engineers team with your engineers
Potting
Varnishing
Vacuum Impregnation
Encapsulation
Value-Added Services
Here at Sag Harbor Industries, we make every effort to provide our customers with not only top notch products but to also provide the type of customer support that makes us a customer service leader in our industry. A few of our value-added services are:
JIT/KanBan system options per customer preference. We will hold stock
RoHS compliance at your request
24 hour response time in replying to input
The products we make for you are totally proprietary, never compromised
Personal and direct service; on-site communication
Teamwork from us to you with superior performance being the goal
Service Partnership
We have a vested interest in our customer's products. Our engineering staff works with you on new designs as well as cost reductions. Our facilities are equipped to handle pre-production as well as volume production.
With more than 65 years of experience behind us, Sag Harbor Industries has come to define excellence in product as well as in customer service. We invite you to take part in our service partnership where we are ready to assist you in the design, engineering and planning elements of your project at a moment's notice.
Made In America
Sag Harbor Industries is a conscientious manufacturer. We believe in putting some thought into how we spend our dollar. As such we have made the decision to keep each and every one of our facilities on home soil.
We believe that imported products can lead to inferior products. As a quality first company, the workmanship of our products is just as important as its price. The quality of American made products is second to none. Our customers can be assured that not only are Sag Harbor Industries products Assembled in America, they are also Made In USA, and we wear that distinction proudly.
At Sag Harbor Industries we believe that we need to spend our revenues wisely. We believe that one of the most responsible things we can do is to re-invest into the American workforce and the American economy.
Many of our competitors do not share our principals. They believe that the cheapest route is also the best, regardless of where their money may end up. We beg to differ.