Encapsulated (Poured Epoxy) Coils
Custom is the keyword at Sag Harbor Industries. Our team of engineers has a long track record of creating innovative and creative solutions. Our staff of engineers is comprised of experts in relay, coil and computer aided design. Sag Harbor Industries is ready to partner with you to create encapsulated coil and other products of superior quality, durability and cost efficiency.
Our encapsulated coils are some of the best on the market. Encapsulated coils function similarly to that of solenoid coils except that these encapsulated coils due to the fact that they are coated in a resin that covers the wire. This means that encapsulated coils are much more efficient at protecting wires against moisture and other types of damage.
Because of this, encapsulated coils are considered to be a stronger type of electric coil. This also means that there are a number of different encapsulated varieties based on the type of industry that you are in. Here at SHI we offer a number of different options in order to provide you with the custom encapsulated coil that works for you.
Encapsulated Coil Services Offered:
Implementation of the concept
Proving the concept
Encapsulated Coil Production Capacities:
Custom Tooling
Vacuum Impregnation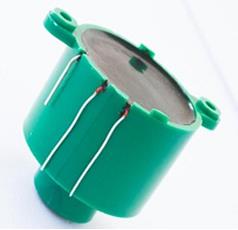 EPOXIES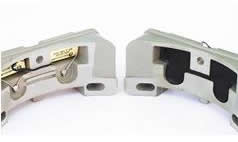 Sag Harbor Industries employs UL approved class B, F and H insulation systems in our encapsulated coil. Our choice epoxies provide excellent versatility for your potting, vacuum impregnation and encapsulation needs. For every encapsulated coil project, we pair customer needs to epoxy properties considering:
Electrical properties
Thermal conductivity
Thermal shock resistance
Moisture resistance
Heat dissipation requirements
Thermal expansion
Industries Served
Here at Sag Harbor Industries, we take a lot of pride in offering our services to a wide range of industries. We have experience working with clients in a number of different fields from aerospace to marine; we're not afraid of a challenge. In fact, we enjoy working with our clients on their projects in order to ensure that we are able to provide them with a solution that works for their unique needs and work environment requirements.
From Rugged electrical components and automotive systems to flow control systems, Sag Harbor Industries would be happy to provide you with a high quality, efficient product.
Quality Assurances
We place a priority on quality. Our coils are produced in compliance with our ISO 9001:2015 certification. We maintain the absolute highest quality control measures to ensure customer satisfaction. Our self-auditing and inspection techniques are rigorous and thorough. Our team undergoes training and certification programs to ensure expert craftsmanship.
Our ISO 9001:2015 certification gives our customers the confidence that our production facilities, our internal and external auditing methods and our quality control procedures meet or exceed international standards. We consistently rank in our customer's "Highest Vendor Ratings". From product conception to application, our goal is to produce the highest quality product; as well as to deliver it on the designated date consistently and to continually improve in every aspect of our business.
Value Added Services
Value-Added services are available per your requirements and at your request. This is just one of the many steps we take to ensure that you get the product you desire. At Sag Harbor Industries there are a number of different steps we can take with our encapsulated coils:
JIT/KanBan system options at our customer's preference
RoHS compliance at your request
24-hour response time when responding to feedback
The products we make are completely proprietary and never compromised
Personal and direct service with on-site communication
Teamwork between us and you, with superior performance being the goal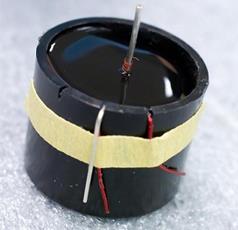 Made in America
Sag Harbor Industries is a conscientious manufacturer. As a quality first company, the workmanship of our products is just as important as its price. The quality of American made products is second to none. Our customers can be assured that not only are Sag Harbor Industries products Assembled in America, they are also Made In USA and we wear that distinction proudly.
With our deep rooted history in the United States, we are proud to say that we manufacture our encapsulated coils in our New York and North Carolina facilities. We believe that the Sag Harbor Industries family of companies provides innovative solutions to all of our customers. Contact us today for more information on our encapsulated coils or any of our custom coils!
That's The Sag Harbor Advantage
Details of Sag Harbor Encapsulated (Poured Epoxy) Coils Capabilities
Encapsulated Coil Catagories

Field Coils, Self-Supported Coils, Solenoid Coils, Harsh Environement Coils

Terminations

Soldered Lead Wires, Welded Lead Wires, DIN terminals, Tab Terminals, Crimped terminals, Stripped & tinned Magnet Wire

Wire Size
2AWG - 52AWG
Wire Materials
Copper, Brass, Aluminum, Copper Clad Aluminum, Copper Nichol Alloys, Copper Tin Alloys, Silver, Gold, Stainless Steel
Wire Insulation Materials
Polyurethane, Polyester, Polyesterimide, Polyimide and combinations of these
Coil Temperature Ratings
105⁰C - 240C⁰
Bobbin Materials
Nylon 6/6, Glass filled nylon 6/6, Glass Filled PBT, Glass Filled PET(Rynite), Glass Filled PPS (Ryton), Liquid Crystal Polymer, Thermosetting Polymer, Phenolic, Glass filled DAP
Coil Finish
Over-Molded, Transfer molded, Poured Epoxy, Baked varnish, Air-Cured Varnish, Epoxy-Glass Wrapped, Cotton-Varnish, Tape Wrapped
Encapsulation Material
Various Epoxies
UL Insualktion Systems
Class B, F, H